Older and newer generations alike want convenient online banking. According to research from Jumio, 76 percent of Baby Boomers bank online while Millenials make up 77 percent of online banking customers.
Reliable mobile banking apps are becoming an important determinant as the number of consumers using mobile banking apps continues to grow.
According to a Gallup study, more than half of banking customers prefer a digital banking relationship to a physical one.
Consumers, especially Millenials, are using digital banking to accomplish bill payment, account management, transfers, applying for credit and loans, making investments, and other financial transactions on one mobile app. For many, mobile banking has become their primary account management tool.
We reviewed and listed the top 5 Banking Mobile Apps according to popular functions:
Best 5 mobile banking apps
---
1. Chime – Best for Spending & Budgeting Tools
Chime's mobile banking app is both attractive and makes account opening super simple. This versatile mobile app lets you manage your money at the touch of a button. Users can view account activity, pay bills, deposit checks, and make payments. Customers can access funds via more than 60,000 fee-free ATMs in the national MoneyPass network.
In addition, you can set up daily balance alerts and real-time transaction notifications. The Chime Savings account earns 1.50% APY plus customers can set money aside with the Automatic Savings features.
iOS app rating: 4.8/5 stars
Android app rating: 4.6/5 stars
Learn More
---
2. Upgrade Banking – Best for 5-Minute Account Opening
Upgrade's mobile banking app allows you to get a bank account and debit card in five minutes. Customers enjoy 2% cash back on everyday expenses like purchases at convenience and drug stores, gas stations (Shell, Chevron, ExxonMobile, Speedway), Netflix, DisneyPlus, SiriusXM, Spotify, restaurants like McDonald's, Starbucks, UberEats, Chipotle and even utilities and cell phone carriers.
Plus, earn unlimited 1% cash back on all other charges. Customers get perks like no ATM fee, no account fee, no monthly or annual fee, no transfer fee and no overdraft fee.
iOS app rating: 4.8/5 stars
Android app rating: 4.6/5 stars
Learn More
---
3. Current Banking – Best for Savings Goals
Current's mobile banking app is makes it easy for customers to reach their savings goals. The Current account earns 4.00% APY (40x the national average) up to $6,000 through savings pods. Savings Pods are a way to save for whatever you want, whether that's a rainy day fund, a vacation, or even monthly expenses like groceries!
Current provides an entirely online banking service, offering several products — a debit card and a bank account in addition to various budgeting tools. Get paid up to two days faster with direct deposit, make cash deposits at 60,000 in-network retail locations, and enjoy no-fee overdraft protection up to $200.
iOS app rating: 4.7/5 stars
Android app rating: 4.6/5 stars
Learn More
---
4. Capital One Bank – Best for Ease of Use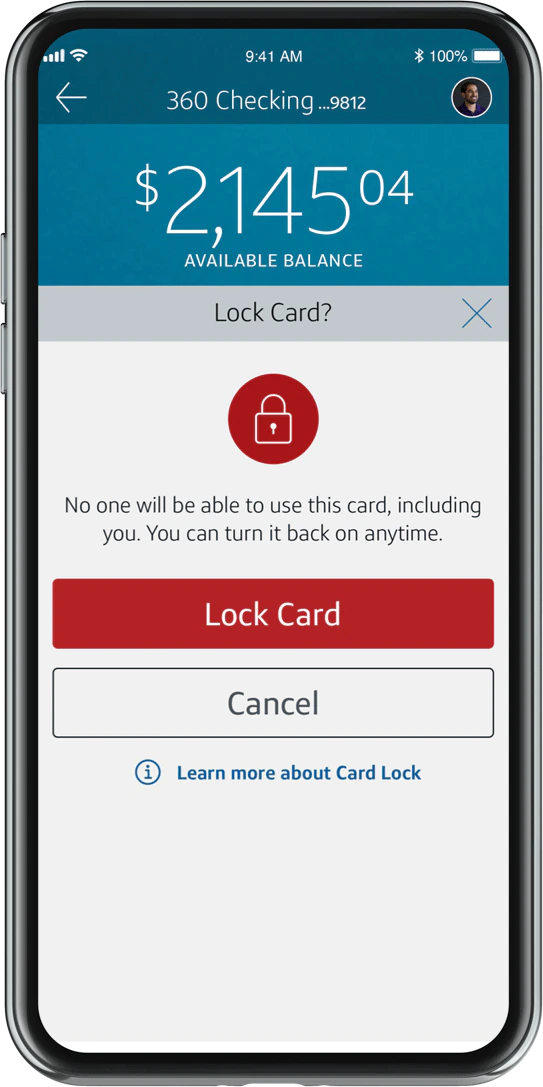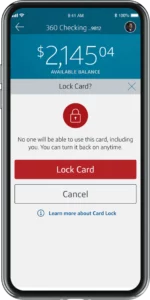 Capital One's mobile banking app is a full-featured online banking experience. It's easy to use allowing customers to view all of their accounts including checking, savings, credit cards, home, and auto loans. Users can view account activity, pay bills, deposit checks, and make payments.
You can also keep track of your credit score by setting up instant push notifications. Customers can also use the mobile app to freeze their debit and credit cards with a few taps on your phone if lost or misplaced. Fingerprint and SureSwipe technology can be used to securely login via your phone.
iOS app rating: 4.8/5 stars
Android app rating: 4.6/5 stars
---
5. Bank of America – Best for Customer Service
Bank of America's mobile banking app gives customers the option to link multiple accounts in one place. J.D. Power recognized Bank of America for customer satisfaction, ranking highest with a score of 852 in June 2022. That's on top of all the typical services like money transfers, mobile bill pay, check deposits, and Zelle compatibility.
But the Bank of America app takes it a step further with Erica, a virtual banking assistant. Erica can help with your transactions, check checking and savings account balances, and even provide insights into your spending.
iOS app rating: 4.8/5 stars
Android app rating: 4.7/5 stars
---
Are banking apps secure?
Mobile banking is a fast and convenient way to effectively manage your money – i.e. check your balance, transfer money, and pay bills online – but how safe is it?
Some experts suggest that banking through a mobile device is safer than banking online. That may be due to the actual smartphone's security. "Mobile phones have more security natively," says Ryan Zlockie from Entrust Datacard. "The apps are more protected than the open website experience."
Because nothing is 100 percent safe, mobile banking app users should take as many precautions as possible when using mobile banking apps. For example:
Monitor your accounts regularly and act quickly if you discover anything out of the ordinary.
Keep your mobile device's operating-system updated. Do not ignore your phone's updates.
Download new software often including new app versions from your bank.
Enable two-factor authentication from your bank. That means in addition to the sign-in process, a code is delivered via text message or email that you would then input to access your account.
As more banking customers turn to their mobile phones for basic banking tasks, banks are constantly working to keep customer accounts safe and secure. Biometrics may be the next move to safer mobile banking.
Biometrics involves automated methods to recognize customers through their biological characteristics and traits such as fingerprints, finger vein patterns, iris, and voice recognition. Biometric characteristics are unique for every individual which makes them very difficult to forge.
Some banking apps are engaging in biometrics as a two-factor authentication method by requiring a fingerprint or facial recognition. Banking apps may likely move to biometrics in the near future.