CIT Bank (BankonCIT) is an FDIC-insured, Internet bank that offers top rates on Money Market Accounts as well as their Savings Builder, Savings Connect, and eChecking accounts.
As an online bank, CIT Bank interest rates are above most traditional brick-and-mortar banks. But if you are wondering does CIT Bank has branches, the answer is yes. CIT Bank has branch locations in 8 states ⏤ Arizona, California, Colorado, Florida, Hawaii, Nebraska, Nevada, and Texas.
Customers that enjoy BankonCIT have a variety of banking products to select from like checking, savings, money market, and certificates of deposit accounts that offer competitive rates with low fees.
Here is a quick look at CIT Bank products.
CIT Bank Savings Connect
CIT Bank eChecking Account
CIT Bank Savings Builder Account
CIT Money Market Account
CIT Bank Certificate of Deposit
CIT Bank (BankonCIT) Savings Connect Features
The Savings Connect account pays 0.50% APY if it's linked to an eChecking account that gets at least a $200 automated monthly deposit. Savings Connect accounts without the automated monthly deposit requirement for the linked eChecking account will earn 0.42%.
Bundled digital savings and eChecking account.
Pays 0.50% APY with a monthly deposit of at least $200.
Minimum opening deposit of $100 for each account.
No monthly service fees.
No ATM fees.
Reimbursement of up to $30/month for ATM fees at other banks.
CIT Bank eChecking Features
The eChecking account has no monthly maintenance charges that pays 0.10% APY interest on balances under $25,000.
Pays 0.10% APY on balances under $25,000
Pays 0.25% APY on balances of $25,000 or more
No monthly maintenance charges
$100 minimum to open
Remote check deposit
Debit card for spending and cash withdrawals
CIT Bank does not charge fees for using ATMs
Up to $30 per month in ATM fee rebates
Lock your debit card to reduce fraud
Payments with Zelle, Apple Pay, and Samsung Pay
CIT Bank Savings Builder Features
The Savings Builder account pays does not require the linked CIT Bank eChecking account in order to earn high interest on deposits. If you save at least $100 each month, you can earn up to 0.40% APY on balances under $25,000 with monthly $100 deposits, or balances over that amount.
$100 minimum to open
No monthly maintenance charges
Mobile check deposit
Pays 0.40% APY on all balances over $25,000
Pays 0.40% APY on all balances with a monthly deposit of at least $100
No online transfer fees (ACH)
CIT Bank Money Market Features
CIT Bank's money market account pays more interest on deposits than its Savings Builder Account. Additionally, these accounts often have tiered rates, with higher balances earning higher rates. They also allow you to write a limited number of checks each month, although money market accounts are still subject to the same withdrawal limitations as regular savings accounts.
Benefits of CIT Bank's Money Market Account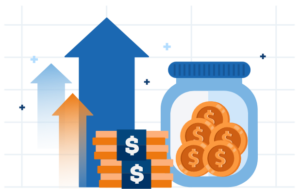 Earn over 10x the national average.
Quick and easy access to funds.
$100 minimum to open.
No monthly service fees.
24/7 secure & award-winning banking.
FDIC insured, meaning you'll never lose money on your deposit.
Deposit checks remotely and make transfers with the CIT Bank mobile app.

Pros vs. Cons of BankonCIT Money Market Account

Pros:

Higher rates. You can earn dividends that pay more than the interest in a standard savings account. You'll earn 0.80% APY no matter your balance. This is significant because other money market accounts typically require a large balance to earn higher rates.

Cons:

There are no debit cards or checks with the Money Market account. Transactions are available via electronic funds transfer (online banking, Zelle, Bill Pay and PayPal), wire transfers and requests via mail or telephone.
Account is limited to a total of six (6) preauthorized or automatic transfers or withdrawals, electronic banking transfers between other account or similar order per statement cycle period. An excess activity fee will be charged each time the transaction limits are exceeded.
Money market accounts and savings accounts have a lot in common. Both offer a safe place to store extra cash but money market accounts make it easy to earn more than a basic savings account and still have all the same benefits—including easy access to your money.
Some money market accounts can also be accessed via an ATM or debit card, and the ability to write checks, similar to a checking account.