[DISCLOSURE: Bank accounts from our partners are mentioned below.]
With an online checking account – no ChexSystems, unbanked consumers looking to conduct financial transactions through a bank can open a new account.
With a stronger economy in 2019 and access to online and digital banking there's no reason for U.S. consumers to be unbanked. If a negative banking history is prohibiting the unbanked from opening a new bank account, there are many banks that don't use ChexSystems.
Wasting money on fees for checking cashing or prepaid debit cards is no longer necessary.
It's become clear that consumers enjoy smart, safe and convenient ways to bank. Digital banking can be a means by which consumers without a bank association can begin to bank again. Digital banking is not just apps and sites, it's full-service banking that offers customers the best of both worlds.
Benefit from new technology to open an online checking account – no ChexSystems. A ChexSystems record, paid or unpaid, can remain up to 5 years and millions of people are unbanked because they have been flagged as high risk.
An online checking account- no ChexSystems may actually help unbanked consumers manage finances better.  With instant alerts and updates it's easier to keep up with transactions and avoid mishaps that may land consumers in ChexSystems.
Online Checking Account No ChexSystems
Chime Spending Account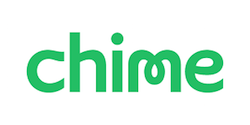 Anyone can open a Chime Spending Account. Chime customers get a Chime Visa® Debit Card, a spending account, and an optional savings account.
Chime's most popular feature is early direct deposit. Customers with direct deposit can get paid up to 2 days early. Customers enjoy free online checking account – no opening deposit and no overdraft fees.
You can earn instant cash back on purchases from specific retailers, or in general categories like groceries, entertainment, utilities.
Enroll in Chime's automatic savings program so that every time you make a purchase or pay a bill with your Chime Visa® debit card, you'll be adding to your savings account. Chime automatically rounds up transactions to the nearest dollar and transfers the difference into your savings account.

Chime spending account details
No service fees. You won't pay a monthly fee.
No overdraft fees. Any purchases that would bring your balance below zero would just be denied..
Get paid early. Set up Direct Deposit and receive your paycheck up to 2 days earlier than your co-workers.
Deposit checks online. Mobile Check Deposit for any members who are enrolled in direct deposit with their Chime Spending Accounts.
No deposit required. Open a Chime spending account with $0 dollars.
Optional savings account. Save money automatically every time you make a purchase or pay a bill with your Chime Visa® Debit Card. Chime rounds up transactions to the nearest dollar and transfers the round up from your spending account into your savings account but don't expect to earn a high interest rate. Chime's savings rate is currently 0.1%.
FDIC-Insured. All deposits into your Chime Account are FDIC insured up to $250,000 through our partner, The Bancorp Bank, Member FDIC.
A few things to consider
Overall Chime Spending Account offers anyone unable to open a bank account due to ChexSystems, EWS or bad credit a second chance at banking. However, there are a few things to consider with an online checking account – no ChexSystems :
Wire transfers. Chime does not currently allow wire transfers.
Paper statement fee. You'll be charged $3 per paper statement if you decide not to get your statements online.
Bank transfers to Chime accounts. You can link an external bank account you own to your Chime spending account. But Chime only supports a handful of major banks for this transfer service, i.e. Bank of America, Chase, Wells Fargo, Citi, US Bank, USAA.
No check writing. Chime members do not get a checkbook. However, Chime will draft a check on your behalf and send it anywhere in the United States. Checks typically take 3-9 business days to arrive.
Low interest rate. When you're looking for a savings account, you generally want the highest interest rate possible. Unfortunately, Chime is at the bottom end of the spectrum — 0.01% APY.
What makes Chime stand out in the digital banking arena is that customers get a human connection also. While Chime's technology is cutting-edge and most transactions can be completed on the App, Chime offers a human experience too. Chime's representatives understand digital bank customers want and sometimes need to speak to a human banker.
With Chime you get the best of both worlds, both digital banking and human banking.
[trx_sc_button type="default" icon_position="left" link="https://bankiful.com/Chime" title="Open Now"]