At Bankiful, we strive to help you make financial decisions with confidence. To do this, many or all of the products featured here are from our partners. However, this doesn't influence our evaluations. Our opinions are our own.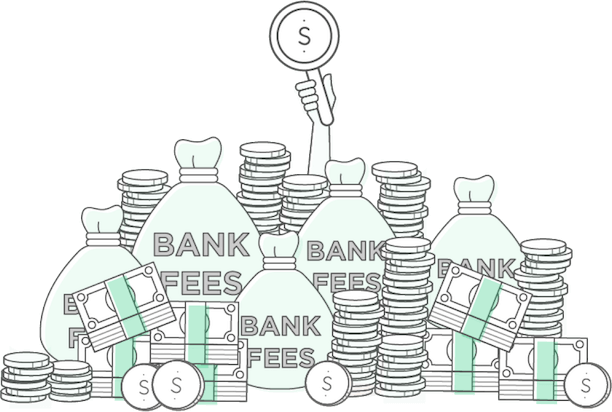 Fees, fees and more fees. That's how banks make a big chunk of their revenue. But if you're tired of paying bank fees open there are online bank accounts for free.
Online banks for free can be a good fit for people that prefer digital banking and who don't need to visit a physical bank branch.
Digital banking offers customer-friendly access to finance and money management tools and is probably why 82 percent of Millennials, ages 18 to 24, use mobile only banking according to a PWC Survey.
People tend to like online banks for free and for good reason. Online banks have fewer fees and higher interest rates than traditional brick-and-mortar banks. The money saved by not having to operate branch locations is often passed onto the customer which means banks can offer online banks for free.
Here are our favorite online checking accounts.
This one sort of flew under the radar for me–BBVA, a big bank with physical branches, does have a free, online checking account.
Their required opening deposit is $25. This account has no monthly fee, but you can upgrade the account for a small fee. For instance, for $5 per month, you can upgrade to a no-ATM fee account, for $2/month, you'll get an unlimited supply of standard checks, for $2/month you'll get unlimited cashier's checks, and for $3/month, you can get a 3×5 safe deposit box.
Unlike most of the other online competitors, this checking account does charge an overdraft fee, but you can customize account alerts to help you avoid having overdrafts in the first place. If you like your online checking account to come with a big bank attachment, this one may be right for you.
Click here to get started with BBVA.
A newcomer to our list, USAA Bank has been a consumer favorite for as long as I can remember. And while other banks offer base checking for free, USAA offers their full lot of services free of charge.
Those services include (and are not limited to) use of ATM's, online bill pay, online and mobile banking, ability to send and receive money securely with Zelle, Apple, Google, or Samsung Pay on your mobile phone, mobile deposits from your phone, and free checks. For anyone thinking that this bank is restricted to just members of the military, think again. We have a full article on who can and cannot join USAA, so check it out of you have any questions.
Click here to get started with USAA.
Capital One 360 Checking Account
This is the online bank that I have trusted and used the longest. I currently do most of my online checking with Capital One's 360 checking account. They offer great service, have the best online bill pay service, offer a free debit card, free ATM use within their huge 39,000 ATM network, send checks online for free, and they now offer physical checkbooks as well, all with no minimums and no monthly fees.
Capital One 360 offers an industry-leading iPhone and Android app, as well. This is hands down the best banking app available. Mobile deposit makes banking a literal snap. And their accounts pay a small interest on your balance as well. Higher balances can tap into bigger rates.
Check out our full Capital One 360 Checking Account review.

One of the best free online checking accounts available today is the Ally Interest Checking account.
It is what it sounds like: a checking account that pays interest on your balance. Beyond being an interest-bearing account, it has several features that most consumers enjoy in a checking account: a bill pay feature which is free to use, free debit card, completely free ATM use (they refund up to $10 worth of other bank fees per statement cycle), and free overdraft protection if you have an online savings account or money market with Ally.
There are no minimum balance requirements and no monthly fees associated with this account. And you can open an account with as little as $1 today. Ally also has eCheck Deposit so you can deposit money remotely at any time.
Click here to get started with Ally Interest Checking.
What makes nbkc bank Personal Checking accounts so unique is that they come with a 1.01% APY. Yes, that's right, nbkc gives an over 1% return on their checking accounts.
If you'd like to earn even more, you can also set up a personal money market savings account with nbkc that has a 1.77% APR. And you can move money back and forth between accounts for free.
nbkc personal checking accounts are crazy cheap. Check out all the zeros in the bulleted list below:
Minimum balance: $0
NBKC Debit MasterCard: $0
Box of checks: $0
Overdrafts or NSFs: $0
Online Banking with Bill Pay: $0
Deposit checks: $0
Cashier's Checks: $0
That's pretty amazing. And you can open an account with as little as $5. Finally, if you need to withdraw cash from an ATM, you can do that for free at any of the over 32,000 ATMs in the MoneyPass network.
You shouldn't ever need to pay an ATM fee. But if you do, nbkc will refund up to $12 of fees per month.
Welcome to the next generation of checking accounts. Simple is aimed directly at the millennial audience. Therefore, the bank account from Simple (now owned by BBVA) lives online with the exception of a debit card. The online interface includes native budgeting tools making it the most likely to be called "a bank + Mint.com". There are no fees for monthly maintenance or overdrafts. Nor is there a minimum balance requirement.
The only fees you'll pay are an international debit transaction fee of up to 1% of the transaction value–and any fees from another bank if you use an ATM outside of the network of 40,000 Allpoint ATMs that Simple uses. You can set up direct deposit and link external accounts, and the mobile app allows you to do Photo Check Deposits on your smartphone. You can instantly transfer money to other Simple customers and can link to third-party payment services like Square, Venmo, and Paypal.
Click here to get started with Simple.