CIT Bank (Commercial Investment Trust) is an online bank headquartered in Pasadena, California. There are no physical branch locations but accounts are available to people in U.S. States.
CIT Bank is known for its competitive annual percentage yields (APYs) on its savings accounts but they also have a checking account that makes banking easy.
In light of the COVID-19 pandemic, many Americans are turning to their computers, tablets, and smartphones to make transactions instead of hitting up the local bank branch. That means banks must offer a user-friendly mobile site and banking app to:
Make real-time payments
Use digital wallets
Access wealth management products and tools
5 Ways CIT Bank makes banking easy with eChecking
1. No-Fee checking account
CIT does not charge monthly maintenance fees. Plus, get up to $30 in other bank's ATM fees reimbursed per month. Like most online banks, CIT does not have its own ATM network, however, CIT won't charge you an ATM fee and will reimburse up to $30 a month in other banks' fees.
2. Flexible banking app
Deposit checks and make unlimited withdrawal and disbursements with the CIT Bank mobile app. Manage your money where and when you need to.
3. Easily move money around
With eChecking you can transfer, pay, and purchase via mobile with Zelle®, Bill Pay, Samsung Pay, and Apple Pay. Online or mobile transfers and incoming wire transfers are free. Outgoing wire transfers are free for accounts with an average daily balance of $25,000 or more.
4. Earn interest
Earn interest with the CIT Bank eChecking account. Customers earn interest on all balances, but can earn 0.25% APY on balances of $25,000 or more; and 0.10% APY on balances under $25,000. Even with the lesser interest for balances under $25,000, 0.10$% APY still out earns the National Savings Rate of 0.06% APY and CIT's eChecking account interest is better than earning nothing at a traditional bank.
5. Customer service
Get 24/7 account access online and mobile, plus an automated telephone system. Reach a live person between the hours of 9 am and 9 pm Eastern time on weekdays and from 10 am to 6 pm (Eastern) on Saturdays.
How to open a CIT Bank eChecking Account
CIT Bank makes banking easy and all account balances are FDIC insured for up to $250,000 per depositor. Open the eChecking account in 3 simple steps:
Step 1: Provide your address, phone, email, and social security number (or other taxpayer ID).
Step 2: Fund your account with a minimum of $100 to open your account. You can transfer funds with electronic transfer, mail in check, or wire transfer.
Step 3: CIT Bank will send you a confirmation email.

Choose how to manage your debit Mastercard®
The CIT Banking mobile app offers a debit Mastercard® with the eChecking account that gives you control to protect you from fraud. If your card is lost or stolen, you can easily turn it off, plus a few other controls: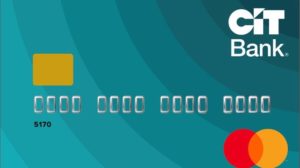 Set where your debit card can be used. You can choose up to three regions where you want to use your debit card. Any card activity outside your chosen regions will be blocked. You can also block international transactions. Disable any region whenever you want.
Establish threshold limits. You can set a dollar amount limit for card transactions.
Choose types of transactions. Block transactions like auto-pay or mail/phone order activity by moving the associated toggle switch. You can switch it back at any time.
Select types of merchants you do business with. Select where you use your card. You can choose to block or allow your card to be used at a variety of merchants such as gas stations or restaurants. You can also restrict use by age.
Open a CIT Bank Savings Builder account to increase your earnings
Checking accounts and savings accounts are practically the same. You can perform most transactions using either type of account, but the savings account can earn you money plus come in handy in case of an emergency. A Savings Builder Account from CIT Bank can act as a buffer between you and an unexpected crisis.
When you pair earnings from CIT Bank's eChecking account (up to 0.25% APY) with the Savings Builder account (0.75% APY), you can end up with high yields on your money.
Savings Builder Features:
Earn 0.75% APY when you make a deposit of $100 per month or for balances of $25,000 or more.
There are no monthly fees.
Minimum balance to earn interest $0.
Interest compounding daily.
$100 minimum to open.
There are other financial products that make CIT one of the best banks for savings accounts.
Final thoughts
CIT Bank's eChecking account offers an easy banking environment through its app along with a user-friendly mobile site. CIT Bank is one of the lowest-cost banks around, that's why they can offer one of the highest savings account rates and interest-earning checking.
If you don't mind doing your banking online or through the mobile app, you'll pay fewer fees and earn higher interest rates on your eChecking and savings account.

Enjoy CIT Bank Free eChecking. Start today.